"Take only memories, leave only footprints"
One of the first places I visited early on in my quest for experiences was the Bahamas. Nassau is the capital and the biggest city of the Bahamas. I really have liked coming here a lot, there is a lot to do and can easily afford a trip down through out the year. I found that basic air fare only runs about $100-125 from Florida, another awesome reason to live down south. The Atlantis resort is one of the most exciting things that I have done while visiting.
They sell day passes to visit the resort, although on the higher side of prices it is worth the money. They have this amazing water park, I have to say one of the best rides they have here is the Abyss. The Abyss is one of the highest slides there and once you get to the top there is nothing to see other then a black hole you jump down. For the next 15 seconds you seen nothing on your ride down except the dark. The coolest thing about this ride other then the jump into nothingness is the end, you come up underneath one massive aquarium. This is where you will really get to see a lot of fish and other marine life.All of the slides and other attractions are definitely one of a kind, among the slides they also have a massive casino, good food, and the most beautiful beaches.  So what you can save on flights I would recommend splurging and heading to Atlantis.
During other trips to Nassau, I also came across a less touristy area near the Baha Mar resort. Now the history of the Baha Mar, this was a massive resort that was built to compete with Atlantis- it included four hotels, a casino and a convention center and is very beautiful. Mid through construction the company/owner filed for bankruptcy so it has never opened. I assume one day that will be resolved but until then, you have this nice area to explore the beaches, the local area, and even Jet Ski and there isn't a lot of people to bother you. The waters around the resort are quite beautiful and you have lots to see while out on the water, from dolphins to sting rays. They also have a few drink stands that offer the best mixed drinks.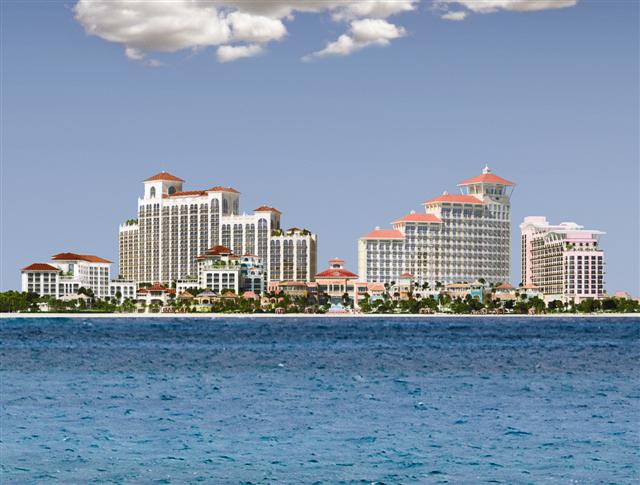 Who could argue with this view?